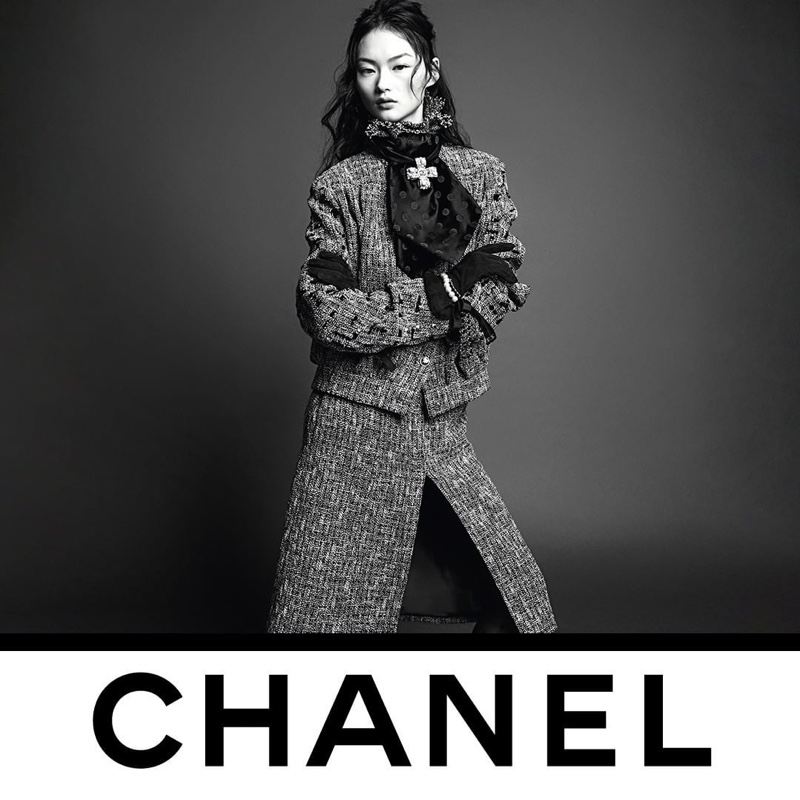 Chanel delivers backstage glamour for its fall-winter 2020 campaign. Black and white portraits captured by creative duo Inez & Vinoodh, feature today's top and rising stars of modeling. A diverse cast includes Kaia Gerber, Adut Akech, Jill Kortleve, Fran Summers, Lineisy Montero, and Rianne van Rompaey. I love all these Chic Autum looks!
It's offically the first day of Fall and I had to bring in the new season in right with a classic brand. Fila has always been one for my favorite brands, their iconic pieces have been around since I was a child. Every time I wear a Fila piece I am filled with such a great feeling of nostalgia. I can been seen here wearing one of my favorite coats which is the Fila Keon Jacket.
I was feeling extra so I added my fav Fila bag and kicks.
For More Information On Fila Please Feel Free To Vist:
I was inspired Gucci's latest Resin Glasses Chain Trend! However I could not afford them! So I became inspired and created my own! There was no way I was paying $340 dollars for this chain!
How To Create Your Own:
1.) Grab a pair of your absolute favorite shades!
2.) Add a one of these Fabulous chains from Amazon, for just $8.95 available in a variety colors
3.) Go be Fabulous !
Since all of our favorite Nail Salons are closed why not take the opportunity to do your  own nails at home? I am used to getting my Mani and Pedi every 2 weeks so I was determined to keep this routine going. With the help of 10+ Free Nail Chemistry Color I was able bring have the Nail Salon experience in the comfort of my home.
10+ Free Chemistry are natural, non-toxic, vegan, cruelty-free nail polishes. 10+ Free Chemistry's proprietary Nail-NRGY Bio Peptide Complex contains all the nourishment and moisturizing ingredients necessary to significantly improve nail appearance and restore health. Their products are 85% naturally derived and 21+ free. They also claim to provide an impressive 10+ days of wear. They also have tons of fun colors in their collection.
The ones I used for my Manicure were QuickSilver and Pink Sand Beaches
I loved adding these polishes to my nail tips! Super fun and easy just add glue and file into desired shape. Order your own nail tips here.
10+ Free Chemistry polishes retail for $18 each I am really impressed with the company's commitment to providing safer and healthier nail polish alternatives.
For More Information On 10+ Free Nail Chemistry Color Please Visit:
https://www.10freechemistry.com
Instagram: https://www.instagram.com/10freenailcolor/
Facebook: https://www.facebook.com/10freenailcolor
Twitter: https://twitter.com/10freenailcolor
Pinterest: https://www.pinterest.com/10freechem/
*All opinions expressed herein are my own and not those of the company If Products or Collections do not fit our overall lifestyle and blog esthetics we will not post reviews on Styleceleb.com. With that being said we bring you this review because we were genuinely interested in trying these Products out and sharing our experience with all of you. A huge thanks you to The PR Team at 10+ Free Chemistry for their generosity! I hope you guys enjoyed the post and learned of a product that can potentially serve and meet your needs.
Caroline Corinth travels to Marrakech for Elles Spain March 2020 issue. The Danish model embraces a wardrobe of bohemian designs in images captured by Mario Sierra. So Fab!
 I was walking through the crowded streets of New York when I  came across a vendor who had this lovely bag. It caught my eye immediately I loved the colors and the leggo letters that spelled out my favorite word LOVE. Cool I thought I am grabbing this and for $12 I knew it was a steal!
As soon as I purchased my bag the vendor told me that this was his most popular bag and that it was a replica of a luxury bag. I was excited! I love Fashion and believe that even a knock off bag can get the job done!  I eagerly started my search to find out the story behind my "Love" replica bag and found that my bag was inspired by the Micro Alex Love Bag which retails at $700! 
I am super excited about my $12 find and am looking forward to the looks that will be inspired by this find!